@duane what new updates are you working on?


Keep up the Great Work Brother.
Super secret

Sweet looks really cool. Have a Safe Weekend My Friend.
@duane I won't tell your secret is safe

The latest developments with radar - it's rendering with swiping but there are still some rough edges. It's interesting with radar overlaid on a forecast… this is radar over Arpege: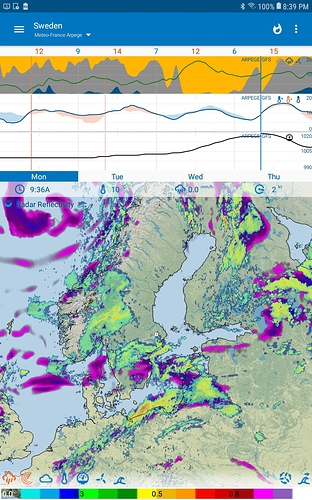 Interesting indeed keep up the Amazing Work
Rain Alarm Pro is an app I've paid for. I install it during the rainy season and utilize it's custom notification alarms, which use adjustable radar data map zones to trigger intensity alarms. Cool stuff. But a battery drain the rest of the year.
I could see a notification feature-add in Flowx down the line?! To be able to access Flowx data (with radar) to build my own weather notifications. I drool.
My first world be a hindcast of wet bulb.
I just wanted to jump in here to say this app is killer.
@GhostGhillie Hello Welcome to the Forum and Thank You for Using Flowx @duane Greatly appreciates it.
@duane just being nosey how's Radar going? Hope it's not driving you crazy

It's going well. I haven't had time to work on it lately but hopefully I will tomorrow. As an analogy, the house is built but I need to do the wiring, plumbing, interior painting, fitting doors, etc… These small things can take ages.
Hoping to get it into beta in the next week or two.
Cheers, Duane.
@duane yep sounds very minor




as always I'm in no hurry better to be patient than not = less bugs, glitches, twitches and gremlins