@Oak forgot to mention there is a new version out
Closed app, yes, formally cleared cache, no. Restarted, yes.
Currently not raining at all so difficult to test!
I should auto-update to the new version soon-like so I will see what that does.
@Oak try changing to an area that is raining to see if it does it at that location don't forget just because it shows rain/moisture on the radar doesn't mean it will rain
Well, here's the thing. Environment Canada shows radar returns down by Leamington and over to Detroit; also by Niagara Falls; not necessarily rain but something.
Freshly updated 3.120 on a rebooted phone showed radar returns down by Leamington/Detroit on the radar for a time of 13h29; tapping "now" produced 13h43 and no radar returns. And no matter how far back I go with the "now line", none show up.
So I think I should probably send a log in.
@Oak Sorry I couldn't help and that sounds like your next step unless @duane has more information on it
The reason there is no data now is that it takes time to process the data. The radar has to take the image, the met service has to process it, then put it on their website, then RainViewer has to process it and add it to the next 10 minute image, then Flowx has to process it, and then you have to download it. I'm surprised it's only 10 minutes late.
If you showed the most recent data, which might be 10 minute in the past, at the current time, this would be deceiving.
If you are ahead of the most recent radar time and you turn on (or off/on) the radar, it'll snap to the most recent radar time.
Cheers, Duane.
The Flowx servers check RainViewer for new data every minute. This might be delayed if other data (e.g., GFS) is being processed - I have to fix this some how. The Flowx app checks for new data every 200 seconds.
I don't know what delays there are for the radar, met service or RainViewer.
@duane Thanks you're always there to cover my butt


Team Work makes the Dream Work




I now have Big Lakes Canada and Westminster England locations added

for helping


forgot New Zealand


Yeah, our met service sucks.
Makes perfect sense! Thanks!
Next question is losing radar when I zoom.
I zoom all the way out I get this nifty habitation-belt image of North America with areas with no radar coverage greyed out and the edge scalloped as various radars have circular coverage. Radar data displays. But if I zoom in, it stops displaying.
Best way I can think to describe the zoom is if I can see the city name label for Toronto, I can't see radar data. If I zoom out enough that I can't see the city label anymore, the radar data displays. So it's there, but it doesn't want to display at the closer scales.
@Oak I zoomed all the way in Radar showed as swpied to the left, zoomed all the way out world map showed.
I get data at all zooms. Can you send a screenshot please?
Screenshots sent to the Debug Log address.
Thanks!
Radar just takes longer to be shown. Just zoom to the desired zoom level and be patient!

(Isn't this the same thing you are talking about?)
Part of it sounds like in the RainViewer App when you select coverage it Grey's out areas
With coverage selected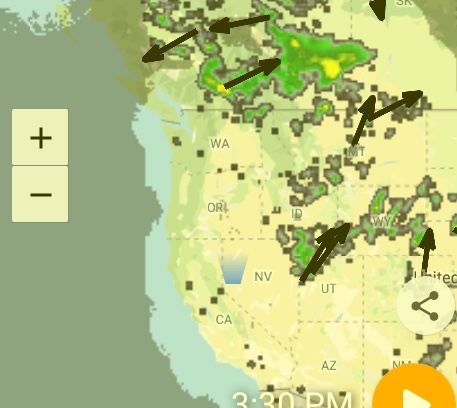 With coverage not selected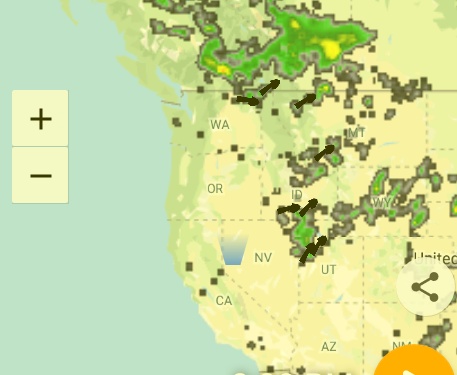 not saying this is the issue just the way I'm understanding and I agree @Ohan could be how Radar loads




Just noticed I have the bluelight filter on in the screen shots


Sorry
At the too-big-for-city-names scale, rain loads nigh-instantly. Well under 1 second.
As soon as I zoom in far enough to get the city names, no rain, including "minutes later".
I don't actually know these are connected; as a behaviour it's consistent.
@Oak on android 7 I get rain full zoom out and full zoom in on both Arome and Arpege with RainViewer and Flowx Rain selected