Part of it sounds like in the RainViewer App when you select coverage it Grey's out areas
With coverage selected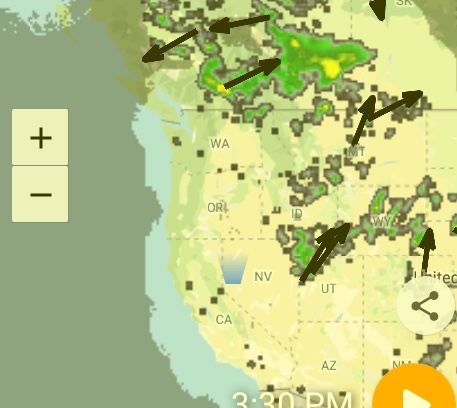 With coverage not selected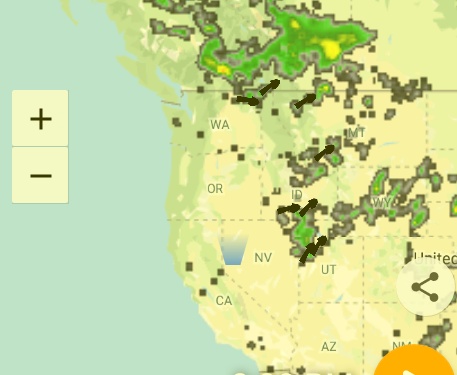 not saying this is the issue just the way I'm understanding and I agree @Ohan could be how Radar loads




Just noticed I have the bluelight filter on in the screen shots


Sorry
At the too-big-for-city-names scale, rain loads nigh-instantly. Well under 1 second.
As soon as I zoom in far enough to get the city names, no rain, including "minutes later".
I don't actually know these are connected; as a behaviour it's consistent.
@Oak on android 7 I get rain full zoom out and full zoom in on both Arome and Arpege with RainViewer and Flowx Rain selected
@Oak, are you talking about radar or rain data in other data sets.
One thing to be aware of is that as you zoom in, it'll download higher resolution tiles and if you haven't zoomed in previously, it'll download the radar for the whole day, which can take a while.
Can you post a screenshot please?
@duane I was also thinking that zoomed out will show rain however zoomed way in might not show cause there maybe no rain. and like it's mentioned before Radar can show rain and it doesn't make it to the ground
I'm on Android 9; 9.0.0.283
I suspect there may be a difference somewhere.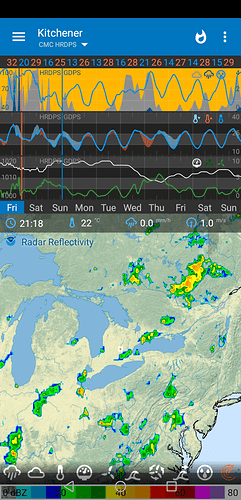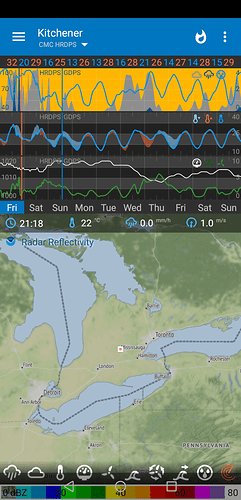 Looks to me like I should see something – there's some kind of radar data – at the closer zoom. Don't know how long it would take to get a new set of "close" tiles; I'm doing this at home with a reasonably fast wifi connection.
Thanks!
I would be surprised. The process to download, load and render radar is exactly the same at high or low zoom, the only difference is the url used to download data and the size of the tiles. It's very unrelated to the Android OS version.
Thanks. I'm now able to replicate your same setup but was able to get it going.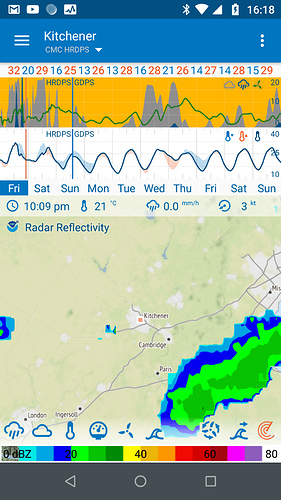 Are you able to turn on debug mode in settings, reopen the app, zoom in and out, then send me the log via Feedback in the side menu?
Cheers, Duane
Really odd, it looks like it's downloading the data fine, for some reason it's not showing.


Very interesting


Are you able to try other places around the world?
Also try changing the map style in settings to Mapbox Streets?
Cheers, Duane.
I've been getting the impression it's pretty odd, yeah.
The map dims just an itz on zoom in when it switches from the shows the data scale to the doesn't show the data scale. That might mean something. I've got three graphs running, where your working example shows two; I can't imagine why that would matter but it is a difference. (Deleting graph three doesn't help.)
I'm just thinking, maybe you downloaded a coverage map that at the time of download didn't cover your region.
Have you tried Android Settings > Apps > Flowx and clearing data and cache?
Changing to Mapbox Streets doesn't seem to help.
There is currently no rain anywhere in Newfoundland (!!), but "Kootenay Boundary D" shows rain when zoomed all the way in.
When I used the place-selector to switch back to Kitchener from Kootenay, rain showed at a fairly close zoom; when I touched the zoom even slightly, the rain went away until I'd zoomed back out to the same zoom level that was showing it before on the other map. Same dimming effect with Mapbox Streets.
Can you send me the log again now? That sounds interesting.
Just cleared cache and data. Give me a minute to see if that worked!