Would it be possible to show pressure values as contours instead of (or optionally in addition to) a colormap? Like how, for example, ECMWF and many other resources show pressure values: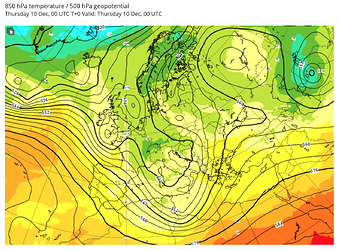 I find Flowx's pressure colormaps (particularly the smooth gradations in color) to be very hard to read and use, even with my degrees in atmospheric science. But with contours as shown above, one can actually see the structure of the high and low pressure systems and if one knows about geostrophic balance then they know the direction of the winds too. Contours also have the benefit of playing nicely with other data too (like the temperature + pressure above) so that it's possible to show multiple fields of data at once.
I don't think this would be hard to implement, just a different choice of plotting scheme for the same underlying data. Even if it were not possible with whatever code you're using to have labeled contour levels as shown above, it would help readability quite a lot to have lines distinguishing different contour intervals instead of only the smooth color gradations between values.