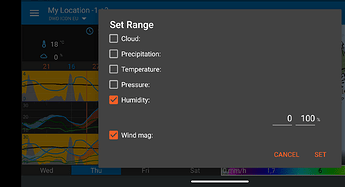 In landscape mode I've started to use the third graph as a compound-graph of the two I normally use.
This is so that I can access a compare mode with all the data at once.
The issue is that the "Set Renge" menue is not scrollable, so when taping all of the boxex, the lower settings are outside of the screen and are inaccessible.
A workaround:
Deselect all checkboxes, and start by entering the values from the bottom of the list, and work yourself up as the values disappear outside the screen.
A second (better) workaround:
Add to portrait mode, set ranges (repeat for every location), remove from portrait mode. Then, once set, use in landscape mode.
TLDR, of discussion below (tap to show more)

In portrait view I only want 2 graphs, so that I can get more of the map.

The best use I've found for the 3rd graph in landscape mode (the one not viable in portrait view) is to use it as a scortcut to a compare mode with all the graphed data at once.

---

I tried, but then then number of gaphs goes back to 2, and the "Set Range" window looks like this:


To reproduce the empty window:

Have 2 graphs in portrait view.
Have 3 graphs in landscape view.
In landscape view long-press on the 3rd graph (the one not viable in portrait view) and open "Set Range"
Switch back to portrait view.