@Ohan
Thank you for that.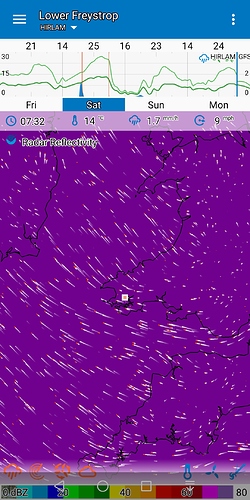 On a separate issue: with Hirlam, the screen goes totally blue/purple whenever rain is indicated.
Tried all models. Same result.
This is now a third variation of an older bug for hindcast of the HIRLAM data.
But it seams that it have come back to haunt us once again.
For me, this time, the HIRLAM flash bug is not ocurimg,
.
It used to be periodically recurring alongside a fake rain in the hindcast data (this was before radar if I remember correctly).
Then for a while it was only in the beginning of the previous day, (and the graphs did not show hirlam hindcast older than 1 day, though the map did).
For me, this time it is only happening once, and it is while the HIRLAM hindcast graph shows a "fake" rain 11 h ago, (not shown in any of the other models).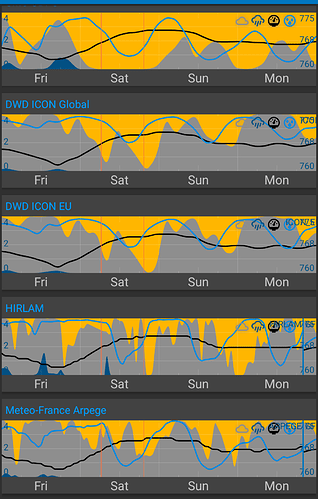 Yep, you hit it right on the nail. Fake bumps and purple.
@Alex, try to highlight the relevant text and tap quote, when replying with a comment on previous post. It makes allot easier to follow that you are commenting on.
Point taken. Thank you.

Interestingly, the fake rain is shown in the app, but is missing in the widget.
Hm. Actually I just realized, that the widget, when set to hirlam, is not showing hirlam data, for me the widget it's showing NOAA data when set to hirlam.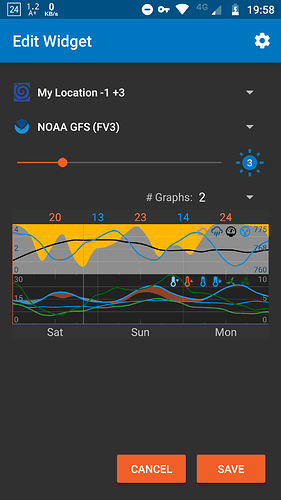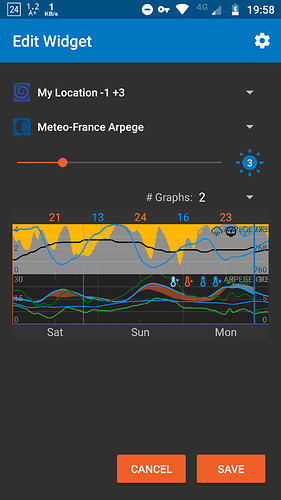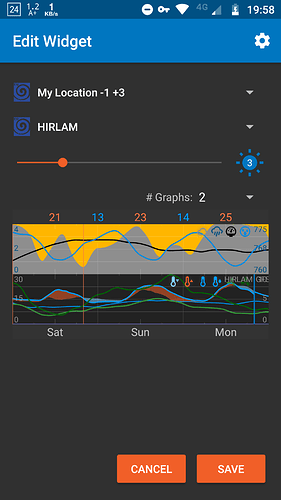 My widget is not switching to Hirlam. It remains at the previous model.
Edit: it does change eventually (1-2 minutes). But does not reflect the Hirlam map as seen in the app.
@Alex do you see what I see? Meaning that this bug seams to be back to above described behavior: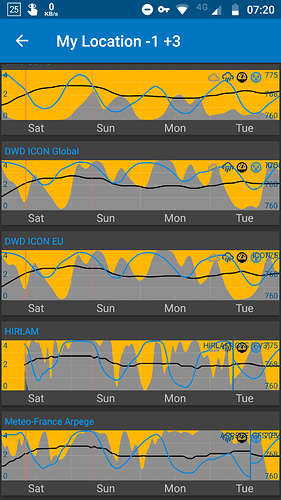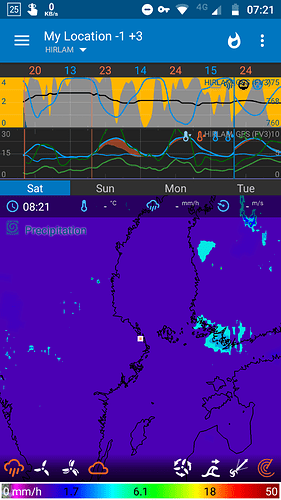 And this persists after a forced refresh.
Actually the data displayed on the map in the part of the hindcast where hirlam is blank in the graphs, seams not to match with the HIRLAM data just after the blue/purple flash. Also the border lines for boundery of the HIRLAM data are then not seen on the map then. Both suggesting that there is other than hirlam data being displayed.
Unfortunately Hirlam and Arome data seem to have issues at present.
Sorry, missed that question. Now the fake rain bump has disappeared. Will check next time.

If you tap 3-dot menue top right, then "Edit place", and change the left "days" value to -3, then the fake rain is still visible.
This is the HIRLAM data on the server, notice the 2019082400 forecast is missing. The 2019082400 forecast never happened for some reason - I don't know why. So the server can only give a complete forecast back 2 days, hence the server announces it only has a complete data set back 42 hours (see the manifest below), so the app can only request data back 42 hours. In 1-2 days there will be enough data for 3+ days of hindcast and this problem will disappear.
68M	hirlam/2019082100
68M	hirlam/2019082106
68M	hirlam/2019082112
68M	hirlam/2019082118
68M	hirlam/2019082200
68M	hirlam/2019082206
68M	hirlam/2019082212
68M	hirlam/2019082218
68M	hirlam/2019082300
68M	hirlam/2019082306
68M	hirlam/2019082312
68M	hirlam/2019082318
68M	hirlam/2019082406
68M	hirlam/2019082412
68M	hirlam/2019082418
68M	hirlam/2019082500
68M	hirlam/2019082506
68M	hirlam/2019082512
531M	hirlam/2019082518
531M	hirlam/2019082600

Manifest:
"hirlam": {
"forecast": "2019082600",
"frames": "-42:54:1",
"next_update": "201908261133"
},