That's awesome!
Looking forward to it!
(Thread got umbaringly long, and after a pushed update I think v2 was in order.)
Some of my notes:
Single tap to set time, should not be activated allreddy on the "button down"-event / at "touch start" but at the "button up"-event / at "touch end" and only if the time between them are under half a second or so. Otherwise it is accidentally triggered when it is unwanted, for example at start of a scroll or a side swipe.

Bug: the time-line is not set for the graphs that are not in view when scrolling. (See screen shot below.)

The time-line is, in my opinion to hard to see, (especially when outside) so a sugestion is to make it a bit higher contrast and or thicker, and/or to make it continous, meaning aslo drawn on the gray areas between the graphs.

Instead of displaying the text "Monkeys wedding" or equivalent at the top of the screen, please display the name of the location displayed. I that is more useful. (Or display both, if it fits).

Bug, (only reproduced sometimes) when changing location, then opening compare, then taping back button (the left arrow at top left corner) it did (sometimes) not only take me back to the map but also changed location to one earlier displayed.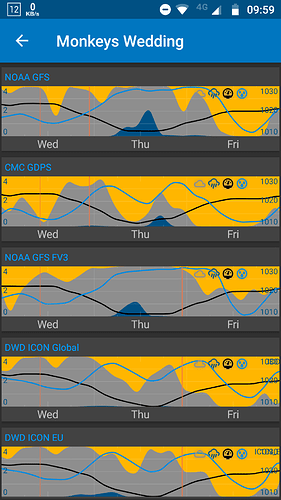 Keep up the great work!
/Ohan